This post brought to you by Boudreaux's Butt Paste. All opinions are 100% mine.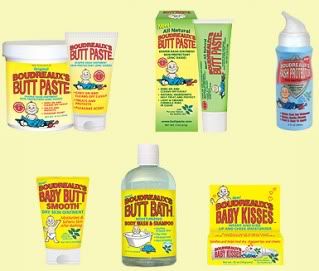 When babies experience rashes and all other discomfort on skin, mommies become anxious and wary about how to solve such misfortune. It took me awhile before I discovered Boudreaux's Butt Paste, which my friends who are now living in the US are using on their babies skin. I did not particularly believe it to be effective, not until I saw how it worked on Lanie's baby's rashes. Shem2x seemed to like the product afterwards, as she smiles every time she is relieved of her discomfort. So Lanie told me to try it on Ira, and well, it sure did worked wonders. But then, since the product was not available at that time here in the Philippines, I shrugged my shoulders and told myself that perhaps an equivalent product could be in the market.
Not until I saw the product being introduced and featured at the Oprah Winfrey Show, the Tonight Show, Today Show, even People Magazine, and ESPN. That's when I knew I just have to get the products. It took awhile, since I would have to ask my friend to order for me, but hey, it was all worth the time and effort. Of course, Ira is the one who benefits most. 
Boudreaux's Butt Paste  is specifically formulated by a pharmacist, and it has the direction from a respected pediatrician to provide effective diaper rash care. Since it is pediatrician recommended, it must really be worth every penny you spend. Well why not? It goes on and cleans off easily, it handy as it is available in convenient sizes with flip top cap (tubes). It contains 16% Zinc Oxide, Peruvian Balsam that treats diaper rash at the same time, soothes irritated skin...
By the way, dear readers, if you visit their site, you will receive your very  own free sample of Boudreaux's Butt Paste.